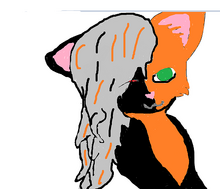 PLEASE DO NOT EDIT. THIS IS MY OC AND MY OC ONLY!!! ALL CHANGES NOT DONE BY ME OR WITHOUT MY PERMISSION WILL BE DELETED!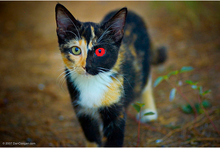 Ashstar is a small she-cat. One side of her face is black with a red eye. While the other side is Orange with a green eye.
Affiliations
Edit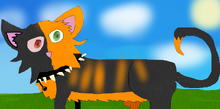 Current: BloodClan (Original) Loner/StarClan, ThunderClan
BloodClan warrior: Ash
ThunderClan Warrior: Ashflame
Medicine cat: Ashleaf
Deputy: Ashflame
Leader: Ashstar
Mother: Flametiger
Father: Scourge
Mate: Icefang (White tom with scorching blue eyes) Brackenclaw (Brown tom with black stripes) (Formally)
Crush: None
Siblings: Holly (Black she-cat with green eyes) Shadow (Black she-cat, one white paw, and red eyes) Badger (Blackle ginger she-cat, blue eyes, and black stripes)
Sons: Lightningstrike (Pitch-black tom with striking blue eyes) Brownwillow (Brown tom, golden eyes, and black stripes)
Personality
Edit
She is an evil she-cat. She is gentle to those she trusts. She has gone through a life of misery. She fights like her father and has an attitude of her half-cousin, Jayfeather. Lame
Ad blocker interference detected!
Wikia is a free-to-use site that makes money from advertising. We have a modified experience for viewers using ad blockers

Wikia is not accessible if you've made further modifications. Remove the custom ad blocker rule(s) and the page will load as expected.